Overview
The Account History page displays all transactions posted to your student account in chronological order with the oldest transaction at the top of the grid. For your convenience, a running total is displayed in the far right column for each transaction posted to your student account.
Field Descriptions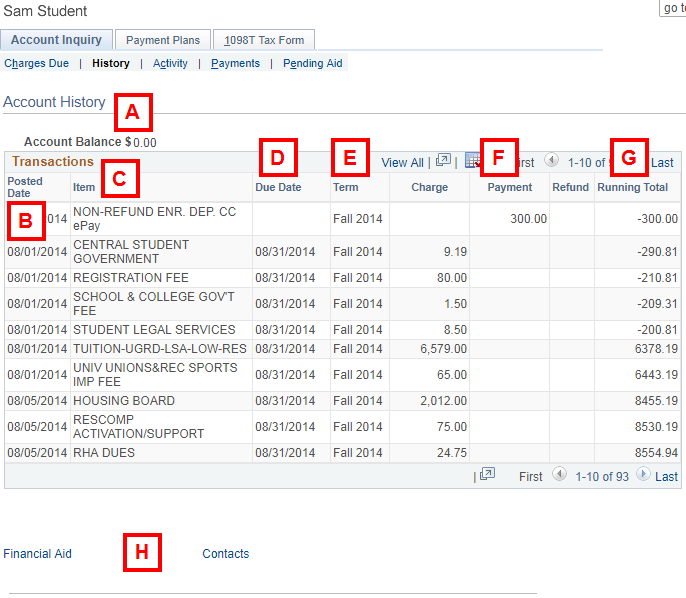 Letter
Field/Section
Description
A
Account Balance
The Account Balance is the current sum total of all student account activity.
B
Posted Date
The date the transaction was posted to your student account.
C
Item
The description of the transaction.
D
Due Date
If the transaction is a charge to your student account, the date the charge is/was due is displayed.
E
Term
The term for which the transaction was posted.
F
Charge/Payment/Refund
The amount of the transaction displays in either the Charge, Payment, or Refund column, depending on the type of transaction.
G
Running Total
The balance on your student account after the transaction has been posted to your account.
H
Links

For your convenience, we have provided links to other student business pages.

You would simply click a link, or click the drop-down menu in the go to... field and select a page you want to visit.
Related Help Topics
Contact Information
Visit the Student Financial Services website at www.finops.umich.edu/student or email um-sfo@umich.edu.
Telephone:  (734) 764-7447        
Toll Free:  (877) 840-4738 (From within the U.S. and Canada ONLY)
Campus address:
Student Financial Services
2226 Student Activities Building
515 E. Jefferson
Ann Arbor, MI  48109-1316