Important Information
This document provides detailed steps for reporting monthly time on the Timesheet page. For the detailed steps to report biweekly time, refer to Report Your Biweekly Time.
The basic steps to report monthly time are to either report no exceptions for the month or to enter the exceptions to your normal work schedule. This is done by entering hours or amounts that are exceptions to your normal work schedule if applicable, selecting a time reporting code(s), and clicking the Submit button.
View information on time reporting codes (TRCs)
A time reporting code (TRC) is a three-character code used to designate the type of time associated with your work and off-work hours. A complete list of TRCs is available via a drop-down menu on the Timesheet page. For help determining the appropriate TRCs and/or hours to report, contact your supervisor or departmental timekeeper.
Monthly employees do NOT report regular (REG) hours. They ONLY report variations from REG (e.g., vacation or sick time). If a monthly employee has no variations to report, they will select NOV from the Time Reporting Code drop-down list.
Check with your departmental timekeeper or supervisor for departmental guidelines on the deadlines of when you should complete your time entry.
View information about system deadlines
In general, monthly employees must report their variations to regular time through the end of the current month (or select NOV from the Time Reporting Code drop-down list). The time entry deadlines precede the end of each month, so they need to estimate their scheduled exception time through the end of the month.
It is okay to report time as the pay period progresses, although your time approver may not want you to click Submit until the end of the pay period.
Employees are able to change time reported in a previous time period. Check with your departmental timekeeper or approver to determine if this applies to you.
Navigation
Wolverine Access Gateway > Faculty & Staff > Employee Self-Service > Time Reporting > Report Time > Timesheet
Step-by-Step Process
Report Your Time
Check to make sure the dates displaying in the Time Reporting Row area are for the appropriate pay period.

Note: The screenshots of the monthly timesheet shown in this document have some of the dates cut out so that it is easier to see the full image of the Timesheet page. The cut out dates are indicated by the dashed line across the date rows.

If you have no variations from your normal work schedule to report, select NOV from the Time Reporting Code (TRC) drop-down. If you have variations, enter the hours in the appropriate date fields and select a TRC from the Time Reporting Code drop-down.
Note: If you report NOV (NO Variations), 1.000 is added to the first day of the month so that the NOV code can be saved. It is not processed as an actual hour of reported time.
Three rows display initially. To add additional rows, click Add Row

. You do not need to delete blank rows before submitting your time.
After completing your time entry:
If you want to save your entries without submitting your timesheet for approval, click Save for Later. However, you must return to the timesheet before the end of the pay period to click Submit.
Click Submit to submit your time for the pay period. If your approver opted to receive approval email notifications, he/she will receive an email. You can make changes and click Submit again if necessary to report more time.
If you wish to view the Approval Monitor, click the Reported Status.

If a single approver does not display on the Approval Monitor, click Multiple Approvers to view a list of everyone who can approve your reported time.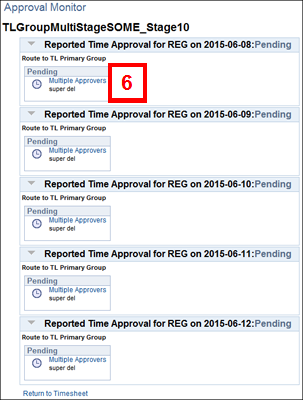 Click Close.
Click Return to Timesheet.
Make Changes to Your Reported Time
Note: If you need to change the time reported for the current month or for a prior month (up to six prior months), you can do so up to the data entry deadline and submit again.
As needed, overwrite or delete the hours in existing Time Reporting Rows.
To delete a row, which includes all hours or amounts for a TRC, click Delete Row .
For each new TRC, click Add Row and enter appropriate values in the TRC and date fields.
After changing your reported time, you must click Submit.
Enter Combo Codes (ShortCodes)
Some employees may be required to enter a Combo Code (ShortCode) in addition to hours and TRCs. Only do this if directed to do so by your supervisor.