Overview
You can find classes in Student Center from the Wolverine Access gateway, via a search for classes, a search by school or college, or by browsing the course catalog. When entering search criteria on the class search page, these tips can help speed the results:
Course Subject - If you don't know the exact subject abbreviation, use the select button to find it.
Course Number - If possible enter a course number or select a course level (e.g., 100) to narrow the search results.
Show Open Classes Only - Turn on this checkbox to display only open classes. (Note: When searching by school/college or browsing the catalog both open and closed sections will display.)
Include Independent Study Classes - You must turn on this checkbox to display independent study classes in the search results.
Meeting Time (advanced search) - Always enter a.m. or p.m. If you don't the system will default to a.m. and the system won't return afternoon classes. To display in the search results the entire class time must fall within the time range entered.
Field descriptions for both Search Results and Class Details are provided below. Keep in mind that:
Search Results - You can use the navigation bar at the top of the search results box to view other sections.
Class Details - You should always view the class details before selecting a class. It provides you with important information including the required class components, class enrollment restrictions, and course topics. Class Details open when you click the link in the section field.

Field Descriptions
Search Results

| Letter | Field/Section | Description |
| --- | --- | --- |
| A | Course Subject, Number, Title | The Course Subject code, followed by the Course Number and the Course Title. |
| B | Class | A unique numerical code associated with the class. If you know the class number, you can quickly search for it when backpacking classes. |
| C | Section | Consists of Course Section Number (e.g., 002), Component Type (e.g., REC), and Academic Session (e.g., Regular). Click the link to view the class details. |
| D | Days & Times | Time(s) and day(s) of the week the class is offered. |
| E | Room | Building(s) and Room(s) where the class meets. |
| F | Instructor | Instructor(s) that teach the class. |
| G | Meeting Dates | Session begin/end dates of the class |
| H | Units | the number or range of units the class is offered for. |
| I | Enrl Restrict | Indicates if the class has an enrollment restriction. If Y, click the Section link to view the information in the Enrollment Information section. Possible restrictions are Consent, Enforced Pre-requisite, Reserved Capacity, and Advisory Requisite. |
| J | Seats Reserved For | Indicates if seats in the class are reserved for students and the number of seats reserved. |
| K | Avail Seats | Indicates number of available seats in the class. |
| L | Wait List Total | Indicates the number of students enrolled on the Wait List, if applicable. |
| M | View/Buy Textbooks | Textbook icon links to Barnes & Noble to view and/or buy assigned textbooks. |
| N | Status | Indicates if the class is open, closed, or a waitlist is available for enrollment. |
Class Detail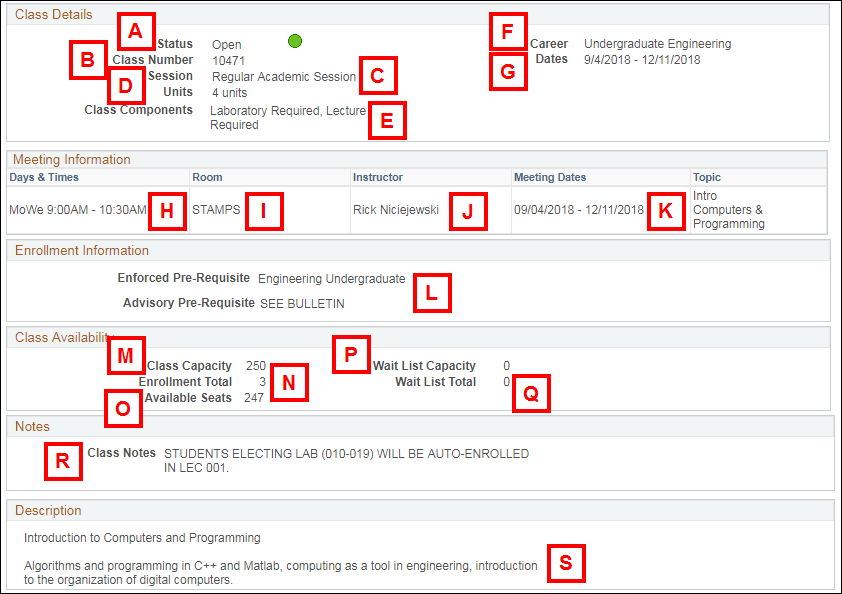 Letter
Field/Section
Description
A
Status
Indicates if the class is open, closed or if a waitlist is available for enrollment.
B
Class Number
A unique numerical code associated with the class. If you know the class number, you can quickly search for it when backpacking classes.
C
Session
The Academic Session that the class is offered (e.g. Regular Session, First 7 Week Session, or Second 7 Week session).
D
Units
The number or range of units the class is offered for.
E
Class Components
The component type o the class, e.g. REC (recitation), LAB, LEC (lecture), SEM (seminar).
F
Career
Indicates the Course's Career
G
Dates
Begin/end dates of the class
H
Days & Times
Tim(s) and day(s) of the week the class is offered.
I
Room
Building(s) and Room(s) where class meets.
J
Instructor
Instructor(s) that teach the class.
K
Meeting Dates
Session begin/end dates of the class.
L
Enrollment Information
Indicates that class has enrollment restriction(s). Possible restrictions are:

Consent
Enforced Pre-requisite
Advisory Requisite

M
Combined Section Capacity
Indicates the total capacity of seats available for the Combined Sections, if applicable.
N
Enrollment Total
Indicates the total amount of students enrolled in a class.
O
Available Seats
Indicates number of available seats in the class.
P
Wait List Capacity
Indicates the total amount of students that can be placed on a wait list. If 0, a wait list is not applicable for this class. If 999 the wait list amount is unlimited.
Q
Wait List Total
Indicates the number of students enrolled on the Wait List, if applicable.
R
Class Notes
Contains further information about the class, if available. (Does this section still appear, I could not find a class with it)
S
Description
Contains course description, if applicable.
Not Shown
Combined Section Details
If the course has combined sections, the Course Details page will show courses that are:

Cross-Listed - classes offered under different subjects
Meet Together - classes that meet together