Overview
The Pay page provides:
Faculty and staff earnings statements (paychecks) for the current calendar year and seven prior calendar years.
Student refund statements for loans and/or grants issued prior to April 1, 2013.
Browser/Software Requirements
Effective June 1, 2008, statements are posted as PDF files. You must have Adobe Reader version 7.0.5 or higher installed to be able to view and print your statement. You can download the latest version of Adobe Reader from the Adobe web site. You may need to contact your system administrator to complete the installation.
Pop-up windows must be enabled to view and print the PDF statement. Generally, most pop-up blockers can be turned off either within the browser toolbar, or within the Windows Taskbar along the bottom right corner of your screen.
If you are using Safari, you may need to use Preview to print your form without cropping the right side. Right-click (or CTRL+click) on the form and select Open with Preview. Then select File > Print.
Use your browser to print statements with payend dates prior to June 1, 2008. You may need to use your browser's print preview and page setup options to fit the statement on one page.
Turn off Private browsing to view and print PDF statement.
Accessibility Features must be turned off to view the PDF. Click Action List > My Preferences.
Navigation
Self-Service > Payroll and Compensation > Pay
Paycheck Field Descriptions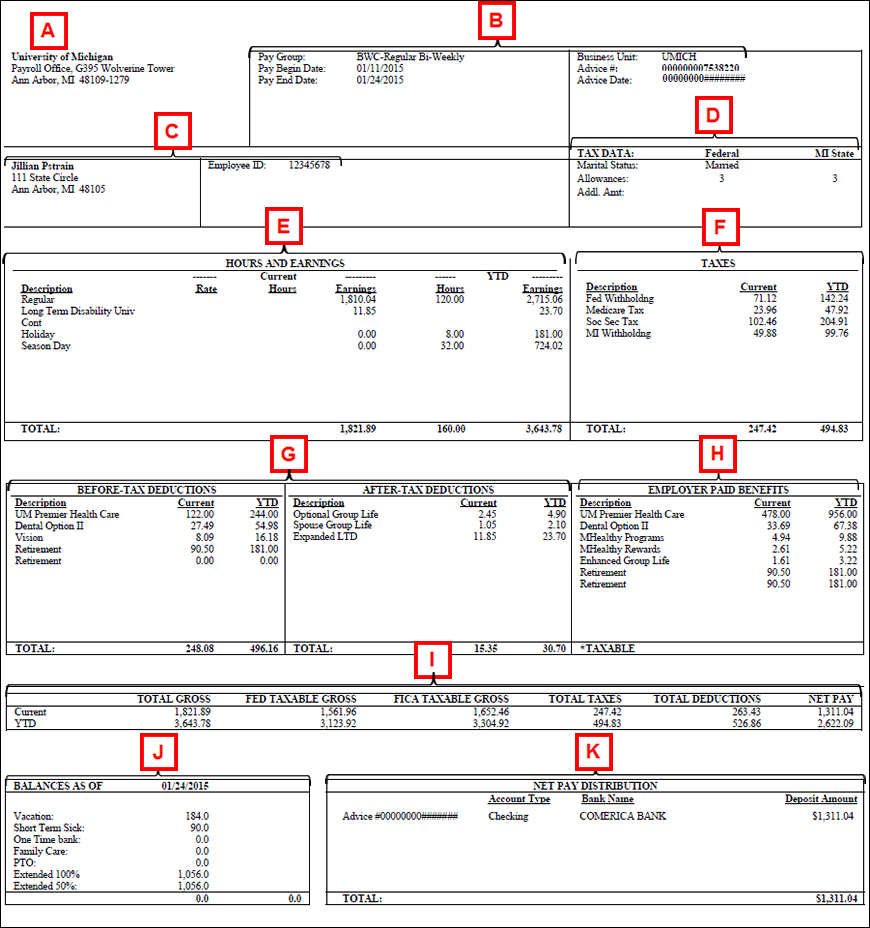 | Letter | Section | Description |
| --- | --- | --- |
| A | University of Michigan | Identifies the address of the Payroll Office. |
| B | General Check Information | Uniquely identifies information pertaining to the check. |
| C | General | Displays your name, UMID, and home (local) address. |
| D | Tax Data | Contains information about federal, state and local taxes. The descriptive fields listed are: Marital Status, Allowances, Additional Amount. |
| E | Hours and Earnings | Contains information about the components that make up your gross pay. The descriptive fields listed are: Description, Rate, Current Hours, Current Earnings, and Year-to-Date (YTD) values. |
| F | Taxes | Contains information about the taxes that have been withheld from your paycheck. The descriptive fields listed are: Description, Current (amount), and YTD (amount). |
| G | Before-Tax and After-Tax Deductions | Contains information about the deductions that have been withheld from your paycheck. The before-tax and after-tax deductions are shown separately. |
| H | Employer Paid Benefits | Contains information about the portion of benefit premiums that are paid by the University. It is not possible to list the breakdown of your 10% retirement contribution by vendor (TIAA-CREFF and Fidelity). The 10% contribution is labeled "Retirement". |
| I | Paycheck Summary | Lists dollar amounts for the current payment and cumulative year-to-date (YTD) totals for: Total Gross (earnings), Federal Taxable Gross, FICA Taxable Gross, Total Taxes, Total Deduction, and Net Pay. |
| J | Leave Balances | Displays your leave balances as of a specified date for each of your balance plans. |
| K | Net Pay Distribution | Contains information about the distribution of your net pay. The descriptive fields listed are: Account Type (indicating checking or savings accounts), Bank Name, and Deposit Amount. |
---
Related Help Topics
Contact Information
Questions? Contact the University Payroll Office:
Phone: 5-2000, option 2, from the Ann Arbor Campus, 734-615-2000, option 2, from the local Ann Arbor area, or 1-866-647-7657 for toll-free long distance
Hours: Monday - Friday 8:00 AM - 5:00 PM
Mail: The University of Michigan Payroll Office
G395 Wolverine Tower-Low Rise
3003 South State Street
Ann Arbor, MI 48109-1279

Fax: 1-734-647-3983
Flint Campus employees, contact the UHR - Flint Service Team:
Phone: 1-810-762-3150