Overview
Regular staff can view their Leave Balance information after logging into Employee-Self-Service.
The Leave Balances page displays accruals available:
Biweekly - During the pay period which contains the first of the month.
Monthly - On the first of the month.
Note: Missing Time Report indicates balances on file may not be correct because there is at least one missing time report.
Navigation
Homepage: Employee Self Service; Tile: View Leave Balances
NavBar > Navigator > Self-Service > Leave Balances > View Leave Balances
Field Descriptions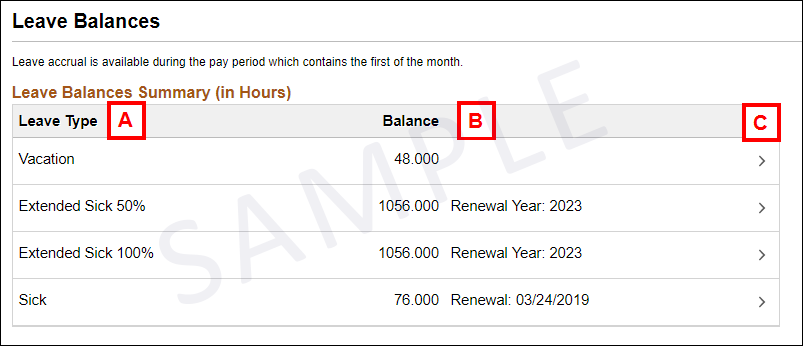 Letter
Section
Description
A
Leave Type
This column displays each of your leave accrual plans.
B
Balance

Displays the balance of the Leave Type.

Renewal dates will display when applicable.

Near Max Balance indicates that you are near the maximum balance permitted for your participation in the vacation or PTO plan.

C
Drill down arrow
Click the arrow or anywhere on the line to open the Leave Balances History page. The Leave Balances section details the history of the applicable Leave Type balance. This section displays the Date, Earned, Taken, Adj/Sold and Balances columns.
Contact Information
Questions? Contact the Shared Services Center.
Call 5-2000 from the Ann Arbor Campus, 734-615-2000 from the local Ann Arbor area, or 1-866-647-7657 for toll-free long distance.
Monday - Friday 8:00 AM - 5:00 PM.
Staff from the Flint campus should contact the UHR - Flint Service Team at 1-810-762-3150.
Submit a form via Mail or Fax to the University Payroll Office:
The University of Michigan Payroll Office
G395 Wolverine Tower-Low Rise
3003 South State Street
Ann Arbor, MI 48109-1279
Fax: (734)647-3983