Overview

This page is used by Faculty/Staff Members and Graduate Student Assistants (GSAs) who are required by federal regulations to certify their effort distribution. Effort certification is an electronic statement signed by the Faculty/Staff Member or GSA, and required by the federal government, verifying that work was performed and that the percent effort for a given period is accurate and reasonable in relation to the work performed. In general, individuals who are required to certify effort use the self-service feature of M-Pathways to certify their own effort distribution.

The federal government requires institutions that receive federal funding to have a process in which Faculty/Staff Members verify that their actual work effort is accurately and reasonably reflected in the University's Human Resources and Employment database (M-Pathways), and that it matches actual distribution of pay.

The Effort Certification Report Page is the official Effort Certification Report. It is available annually in the Fall to Faculty/Staff Members, and each term for GSAs. If you are required to certify your effort, you should use this page to verify that your effort percentages across short codes are correct. The self-service page allows you to indicate whether you agree or disagree with the effort distribution displayed, by clicking the YES or the NO button. If you click NO, you will be prompted to send an e-mail message to your Administrative Contact person to request corrections. After corrections are made, you will need to open the self-service pages and click the YES button to indicate that the effort distribution is correct.

To validate your effort percentages across short codes:

Verify that you are looking at the correct employee record and the correct time period.
Verify that the Certified Effort and the Total Appointment Effort is correct for each short code listed. Definitions of these two fields are given below.
Verify that the information associated with each short code, especially the Class Code (functional activity), is correct for the given time period.

Note: Click the blue underlined short code for a detailed summary.

If the information displayed on the report is correct, click YES to electronically sign your effort report. Then, click OK. No further action is needed.
OR
If the information is incorrect, click NO. Proceed to Step 5.
If you click the NO button, a new page is displayed. Click OK to generate an email to your administrative contact. You will use the Effort Certification Notification Email Page to indicate your reasons for disagreeing with the information displayed. See the Help: Effort Certification Notification Email Page for further instructions.
Effort Certification Report Page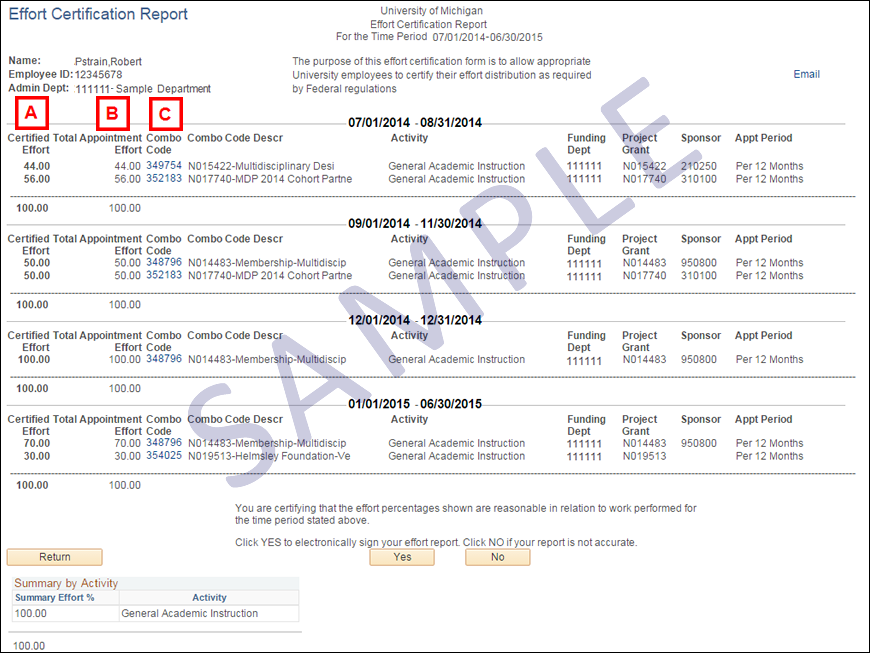 | Letter | Field/Button | Description |
| --- | --- | --- |
| A | Certified Effort | Displays a description of the different coverage levels available. |
| B | Total Appointment Effort | The Full-Time Effort (FTE) that is associated with this short code, expressed as a percentage. FTE refers to the amount of time a person spends working in a particular appointment. It is equal to the standard hours divided by 40 and has a maximum of two decimal places. The sum of the FTE for each short code is always equal to the FTE for the entire appointment. For example, if you had a 20 hour appointment, funded equally by two short codes, the total appointment FTE would be .50 (.25 for each short code). The Total Appointment Effort would be 25.00 (25%) for each shortcode. |
| C | Combo Code (Short Code) Descr | A six-digit number and text description that represents the source of funding and activity for the position. |
Related Topics
Effort Certification (Available Fiscal Years/Terms) Page
Short Code Details for Period Page
Contact Information
For questions about Effort Certification, contact your department administrator.

If you need further assistance, or would like to learn more about the Effort Certification process, please visit the Cost Reimbursement Office Website. Contact information is displayed here.

If you have questions or need assistance regarding the use of M-Pathways, please call the ITS Service Center at 734-764-HELP (764-4357), or send email to 4Help@umich.edu.