Overview
Appointment Information is a page that displays employee appointment and personal information online.
View Appointment Information Page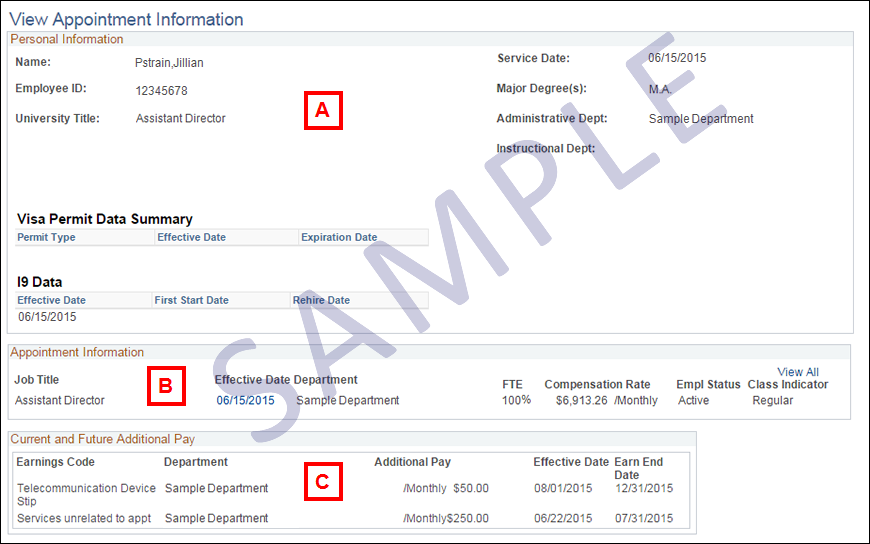 A: Personal Information
This section contains personal information about you as an employee at the University of Michigan.
University Title is your working or official employee title.
Administrative Dept is the department that has responsibility for the terms and conditions of your employment and for processing administrative paperwork.
B: Appointment Information
This section contains all your current appointment information with the University of Michigan.
To view appointment information, you must have an Empl Status of Active, On-Leave, or Short Work-Break. Temporary appointment information displays if you hold a temporary appointment in addition to your Regular appointment.
Appointments are separated by a thin colored line (the color will depend on personal computer settings).
The most current information appears for each appointment. Click View All to display additional information for the appointment, including current, future, and historical data. Historical appointment information is available back to 06/06/01.
Select the date under the Effective Date field (e.g., 08/29/2004) to see detailed job information for that particular effective date.
C: Current and Future Additional Pay
This section contains all current and future additional pay information for current appointments.
The Effective Date and the Earn End Date describe the time period for which the additional pay is being paid.
The Earnings Code describes the type of additional pay.
Related Topics
Contact Information
Questions? Contact the Shared Services Center.
Call 5-2000 from the Ann Arbor Campus, 734-615-2000 from the local Ann Arbor area, or 1-866-647-7657 for toll-free long distance.
Monday - Friday 8:00 AM - 5:00 PM.
Staff from the Flint campus should contact the UHR - Flint Service Team at 1-810-762-3150.