Step-By-Step Instructions
Review the Open Benefit Events listed.
Click Info to view the event information.
Click Select to begin making elections.
Benefits Enrollment Page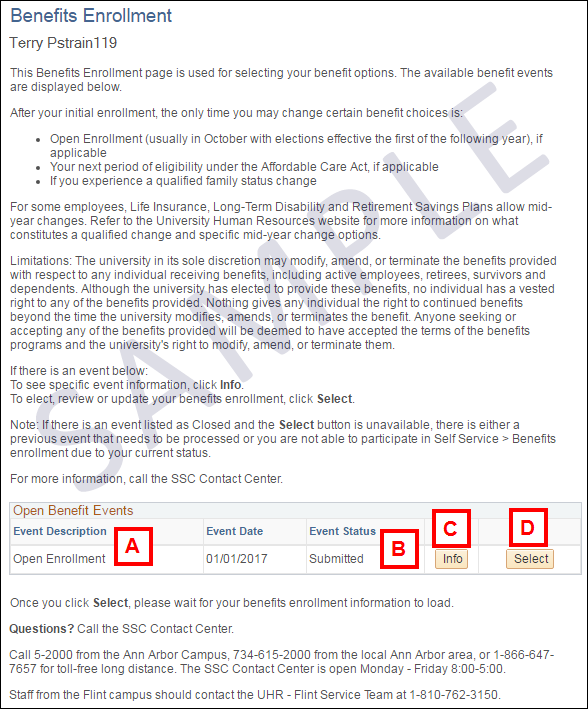 Letter
Field/Button
Description
A.
Event Description
Displays the type of enrollment event (e.g., Open Enrollment, New Hire)
B.
Event Status

Identifies the status of the event. Valid values: Open, Closed, or Submitted.

Open - Elections can be made for the event.

Closed - Elections can not be made on the event.

Note: The event may temporarily be closed due to an earlier event (e.g., family status change) that still needs processing. Contact the HR/Payroll Service Center for assistance (see below for contact information).

Submitted - Elections have been submitted.

Note: You can still make changes to elections during the Open Enrollment period when the event is in Submitted status.

C.
Info
Displays an informational page describing the event.
D.
Select

Click to review and/or enter benefit election changes.

Note: After clicking Select the system may take a few moments to display the next page.
Related Topics
Contact Information
Questions? Contact the Shared Services Center.
Call 5-2000 from the Ann Arbor Campus, 734-615-2000 from the local Ann Arbor area, or 1-866-647-7657 for toll-free long distance.
Monday - Friday 8:00 AM - 5:00 PM.
Staff from the Flint campus should contact the UHR - Flint Service Team at 1-810-762-3150.